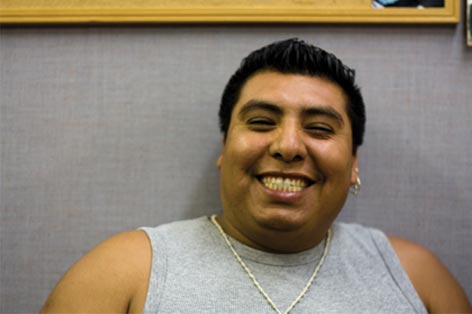 Student Testimonials
Fnu Hassibulah - Kent, WA
Hassibullah had been in the States for three months before he was referred to Puget Sound Training Center by a friend. On his first appointment with the Employment Case Manager, Hassibullah was enrolled in the LEP pathway program and an employment assessment plan was constructed for him in order to address his main barriers. Hassibullah spoke good English; however, he didn't have any work experience in America or possessed any employable skills. Fortunately, Puget Sound Training Center was offering a three month (October 2014- December 2014) long Pilot Program that consisted of forklift, warehouse, computer and job readiness training. It required dedication and consistency. While enrolled in the Pilot program, Hassibullah was hired part time at FedEx Smartpost as a Parcel Assistant. This allowed him to put into practice the warehouse training he received at PSTC.

On December 29th, 2014 Hassibullah had great attendance and completed the Pilot program receiving his warehouse, forklift and computer certifications. The Pilot Program had increased his employability. So with the assistance of an Employment Case Manager at PSTC his resume was updated to illustrate his new skills and experiences, his cover letter was modified to emphasize his plans to find employment in the warehouse industry and he received one-on-one job search assistance so he could get help with his online job applications. In order to make Hassibullah an active participant in finding a job, he was provided with information about companies that were doing open interviews and accepting in-person job applications so he could use his job readiness skills and improve his interview skills.

By January 2015, Hassibullah was going through two interview process with Food Services of America for full time Order Selector position that paid $15.00 and with Bartell Drugs for a full time Warehouse Staff position that paid $13.50. Hassibullah was successful in his interview process and both companies offered him a job. Hassibullah professionally declined the job offer from Bartell Drugs and the manager at Bartell Drugs warehouse told Hassibullah that if anything changes he is more than welcome to come back. After working for Food Services of America for a month, Hassibullah was unable to continue working due to health reasons. He once again conducted himself professionally well resigning. Once again, Hassibullah returned to PSTC and he was advised to contact Bartell Drugs and see if the warehouse staff position was available and luckily it was. More importantly, the manager at Bartell Drugs warehouse was more than happy to have a skilled and dedicated worker like Hassibullah working for him. Since, February 25th, 2015 Hassibullah has been happily employed with Bartell Drugs and plans to take part time college courses during the summer.
H.D. - Seattle, WA

H.D. previous work experience had been in food production and caregiving and had limited writing skills in English before enrolling in our BFET program at Puget Sound Training Center (PSTC) on September 2014. However, her previous jobs were temporary or part time, and her ultimate goal was to work for an employer that will guarantee her full time hours and provide her with medical/health benefits. Hamda is a mother of four boys, and was eager to secure a job that will allow her to support her family while growing professionally. She knew that as long as she was consistent in her job search that she will find a job that meets her personal and professional expectations. Hamda met with an Employment Case Manager once a week and was provided with a multi cultural case management and a comprehensive employment search which entailed the creation of a resume, individualized cover letter and one-on-one job search assistance.

H.D. was willing to accept a part time job so she could continue supporting her family, but her ultimate goal remained the same. On November 2014, with the assistance of her employment case manager, she was hired for a part time position. This helped her generate some income while being able to participate in job search activities with Puget Sound Training Center. Unfortunately, by the end of December 2014, the holiday season was coming to an ended and she was only working no more than 8 hours a week, so she decided to put her full focus on job search for the month of January. She came to her job search appointments, and applied for only full time positions that required skills and experiences she had already acquired. She wanted to secure a job by the end of January.

Her positive and optimistic mindset paid off when with the help of her employment case manager she applied online with an employer named Sodexo for a full time Housekeeping Attendant opening. She was called for an interview with Sodexo and her employment case manager provided her with an updated resume, cover letter and few tips that will assist her in the interview process. On January 29, 2015 she was hired by Sodexo for a full time position, earning an entry level wage of $12.49/hour plus health benefits and time off. Our client is excited about her new job and happy that she was able to meet her ultimate goal to find full time employment with the help of Puget Sound Training Center.


Nahom Kebede - Seattle, WA
I arrived to the United States in February 2012. My initial desire after arriving to Washington was to secure any type of job, even though I had a Ph.D. in Technical Sciences from my home country. I was even willing to settle for a minimum wage job, as long as I was doing something and staying active. Then I heard about Puget Sound Training Center, and decided to stop by and see if they can assist me with my job search. Luckily, I qualified for their services, and I made an appointment. From day one I was impressed with how efficient their services were and how caring and attentive their staff was.
I expressed my desire in finding any employment as soon as possible, and I even considered volunteer work in my area of expertise, or some sort of an internship with an Electrical company. I was advised by the staff that besides looking for general labor positions, I should not give up in trying to find employment in my career field. I accepted this advice, and my case manager and I began applying for jobs through Craigslist, and Indeed websites, which I never heard of before. We also spent some time updating my resume so that it fits the standards posed by companies in the US, and we created a professional cover letter outlining my educational background and experience.
After about four weeks, I received an email from a prestigious company located in Everett - Component Concepts, Inc. Their manager wanted to interview me for an Electrical Technician position which became available. After a successful interview, I got the job!
Now I have a job that pays me way above the minimum wage, and I am excited to begin the immigration process for my family. I am also grateful that the staff worked very hard to assist me with finding something more related to my career and education, which helped me secure a wonderful position with a great company.
Thank you Puget Sound Training Center.
Pascal Clenat – Des Moines, WA
As a recent immigrant from Haiti, my first priority was to find a job as soon as possible. One of my friends recommended Puget Sound Training Center, so I went there and was enrolled for their services. They provided me with Forklift, computer and interviewing techniques training. My resume was updated by their staff, so that I could start applying for local jobs.
I applied at several local warehouses and stores, but the one that called me for interview was SEARS at Southcenter Mall. I was hired as a Receiving Associate. I am still employed there and love what I do. I have made many great friends and gained new skills that I could apply in future employment opportunities.
Puget Sound Training Center helped me find my second job as a Night Time Janitor with KBM Solutions. I now work two jobs, and the salary from these two jobs has allowed me to send some money to my family in Haiti, and also allowed me to purchase my first car.
If it wasn't for the services and career coaching provided by Puget Sound Training Center, I would probably still be looking for employment. It can be very difficult and frustrating for new immigrants to find a job in America. The application process and job posting system is very different from what we are used to in Haiti.
Thank you so much Puget Sound Training Center for improving my life. I am now able to help out my family, attend college and continue to pursue my dreams.
Khan and Nyibol – Kent, WA
I was referred to Puget Sound Training Center by my local CSO office in 2007, and since then I have been coming to their office for assistance. The staff at PSTC has always been attentive and willing to help us, even though we have not been regular clients.
Our work experience has been in the warehouse industry, and due to transportation limitations, we have always looked for employment at places where we can work together. Luckily, we found employment with Nintendo and worked for them for over four years.
In late 2011, we were laid off from our positions with Nintendo of America, and since then we had struggle to find another job. We decided to visit the Puget Sound Training Center again and asked if we could get help finding employment. They immediately said yes, and with a week, our resumes were updated, applied for a free cell phone, and email accounts were created for us. We applied for several jobs online and completed many online job applications, and it was during this intensive job search that our case manager at PSTC received a phone call from an employer in Kent that was in need of warehouse workers. Our resumes were forwarded to the HR manager and within less than a week, we had our interview and later a job offer.
We are very happy that we have found permanent employment. We are now able to provide more to our children and live happier, productive lives.
Simon Ingeti - Renton, WA
I am deeply grateful for the services and unconditional assistance that Puget Sound Training Center gave to me. With their help I have been able to find resources that I did not know were there for me and their instructors provided me with the training and skills I needed when I was looking for a job. I learned new job search techniques, helped me create a resume and cover letter and most important, they showed me that opportunities are out there, and that is only a matter of looking for them.
Thanks to Puget Sound Training Center, I am now enrolled in a micro-enterprise program with Express Advantage. They believed in my dream of becoming a successful entrepreneur in America. My goal is to open my own Kenyan import store and sell products of my home country. Every day I get closer and closer to my dream.
Aydyn Mavlyudov - Kent, WA
After I was laid off, I began to look for work. After several months of searching, I realized I needed help. A friend of mine recommended Puget Sound Training Center; he took computer classes at PSTC and they helped him find a job. I enrolled with PSTC for Customer Accounts and Computer Training where I learned how to look for work on the internet and send my resume to hiring companies. I also learned how to use Microsoft Office programs. PSTC case managers helped me with my job search and were always available for me when I needed an appointment or copies of my resume.
Today, I am employed with Neumier Engineering as a warehouse production and order generator where I use the computer skills I gained at PSTC on a daily basis. Training at Puget Sound Training Center made me feel confident so I can excel at my job.
Malya Kedir - Renton, WA
My family and I came to the United States as refugees. My husband and I separated and I was left with 4 children to take care of. I was referred to Puget Sound Training Center when I applied for benefits through DSHS.
Puget Sound Training Center is a wonderful place. I was able to take a computer training course, and the staff there helped me look for and find a job, and it was free!
My case managers always had time for me. I was given a lot of helpful information and was referred to other providers or agencies when I needed help with childcare, or other legal issues while going through separation process with my husband.
After I completed a computer class it helped me to feel confident when I went to job interviews. I was afraid to go before because I did not know how to do an online application or survey, but after the class with PSTC I felt comfortable and confident. PSTC also helped me make a great resume. I don't have a computer at home, but I was able to apply for work right there in the office. PSTC has a job search area with computers I could use to do everything online, and they helped me in the process.
Today I work for ABM Janitorial as a commercial janitor, I am very grateful to Puget Sound Training Center and all the staff there for helping me get this job and supporting me during the hard times. I don't have to worry about who is going to support my kids anymore. I can do it all by myself, thank you PSTC